Atop Mount Rushmore are the faces of four transformational men. These men have changed the landscape of this nation and have effected change of commendable magnitude and longevity. We all know George Washington, Thomas Jefferson Teddy Roosevelt, and Abraham Lincoln are the American heroes chosen for Mount Rushmore (or at least now we do), but what if the New England Patriots were theoretically to resurrect a Mount Rushmore? Who would be featured on that? And what traits would we want those characters to represent?
In choosing the four Patriots most representative of the franchise, I distinguished players with characteristics that I believe embody success and likeability. To crack the rocks of the Patriots Mount Rushmore, one had to fit the mold of some high standards. I looked for winners of unwavering commitment, selfless team players, and fan favorites. Furthermore, I sought to honor those Patriots that helped revolutionize the game as well as those leaders that used emotion and high status to motivate others. More than anything else, though, I looked for iconic leaders that displayed great talent, a knack for winning, and a true commitment to the team. It is no coincidence that every individual on the list started his professional career on the Patriots and either ended it there or is currently still there. To be on the Patriots Mount Rushmore, an individual has to indisputably be A PATRIOT.
Due to the sanctity of the historic monument and the plethora of players that are worthy of consideration, choosing just four faces is no simple task. But, after great contemplation, I have narrowed down a list of New England stars and have determined the faces to be carved on the Patriots Mount Rushmore. On it shall be Bill Belichick, Troy Brown, Tedy Bruschi, and the one and only Tom Brady.
Here is why:
Bill Belichick is the mastermind behind all of the Patriots' success. Whether you are a fan or a hater, one thing is indisputable: Belichick is a winner. The football guru has led the Patriots franchise to "not one, not two, not three," but (sorry Lebron) four Super Bowl Championships in his fifteen seasons as head coach and general manager of the franchise. For anyone keeping track of records, yes, four Super Bowls ties him with the great Chuck knoll for most all-time. In New England, he boasts an incredible 73% win percentage in the regular season and an equally daunting 72% win percentage in the postseason. Plain and simple, the 3x NFL coach of the year, along with Tom Brady, has been the backbone of this New England dynasty. And if that's not enough, maybe the fact that the NFL adopted his proposal to lengthen extra points proves the respect Belichick has garnered in this sport. Bill Belichick may not be liked by all, but he is a winner, he has shown a duration of commitment, and he has revolutionized the game. He absolutely deserves a spot on the Patriots Mount Rushmore.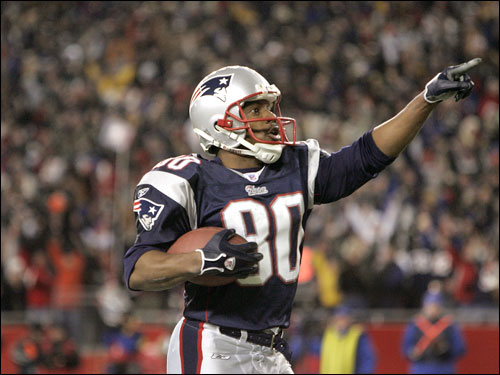 Troy Brown
never possessed the star power of a Randy Moss, but to Patriot fans, that is just fine. Simply put, Troy Brown is a New England Patriot. The 1993 eighth round draft pick remained in New England for the entirety of his fifteen season career. Fifteen years! An ideal team player, Brown worked his way up from a return specialist, to a third option receiver, to a go-to target. Along the way, he kept a level head and a selfless attitude, willing to take pay cuts and play wherever his skills were most needed. Believe it or not, the fan favorite receiver had three interceptions in one season (2004) as well as started a game at quarterback. As for numbers, Troy Brown won three Super Bowl titles— playing an integral part in the 2001 Super Bowl that started Tom Brady's stardom and New England's dynasty—and he had 557 career receptions for 6,366 yards (both 2
nd
all-time for the Patriots). The franchise leader in punt returning played big when the stage was big, he was a team-first guy, a great leader, better man, and a true Patriot. For those reasons, he is on the Patriots Mount Rushmore.
Another fan favorite and Patriot legend, middle linebacker
Tedy Bruschi
led the team on the defensive side of the ball for thirteen great seasons. And, if the recent play of the Patriots has fuzzed your memory, here is a reminder: it was the defensive unit that carried the Patriots early in the Brady era. Whether it is Bruschi's playing with his kids on the Super Bowl field, his four consecutive interceptions returned for touchdowns, or his hoisting of the Lombardi trophy three separate times, the former captain has filled Patriot fans with favorite moments. Bruschi started 139 games, racking up a total of 1,110 tackles, 30.5 sacks, 12 interceptions, and 8 touchdowns. The 2x All Pro earned great respect throughout the organization, exuding great perseverance and pride for the game. Overcoming a stroke in 2005, Bruschi, against all odds, came back in tip-top shape, leading the team in tackles the next two seasons. In the eyes and words of Coach Belichick, Bruschi was
"the epitome of everything you want in a football player."
A fan favorite, star, winner of unwavering commitment, inspirational leader, and selfless individual—Tedy Bruschi's face has a spot on the Patriots Mount Rushmore.
Tom Brady
. An explanation here is unnecessary. But if you insist, here you go. Forget all of that deflategate garbage; Tom Brady is the face of the NFL, a 4x Super Bowl Champion, 3x Super Bowl MVP, 6x AFC Champion, 2x NFL MVP, and the star of the New England Patriots. Walk around Boston, you are sure to see a Tom Brady jersey. Heck, walk around Wyoming, you will probably see one there, too. Tom Brady is the ultimate winner. Even before he was recognized as a top quarterback in the NFL, he was winning championships like it was nothing. He has the "it" factor, and in many ways, his stardom extends beyond football. Yet, against the belief of some, Brady is the ultimate team player. He puts in extra time with his receivers, he takes pay cuts to allow for the acquisition of more players, and he lives and breathes football. With a career record of 160-47 (77%) in the regular season and personal stats out of this world, Brady—along with Belichick—has been the main driver behind the Patriots' success. Tom Brady fits all of my criteria and is a no-brainer for the Patriots Mount Rushmore.
Just missed the cut: Vince Wilfork, Ty Law, John Hannah, Andre Tippett, Rob Gronkowski, Adam Vinatieri